Green beans for baby are one of the most healthy and friendly solid foods. You can gladly introduce it to your 6 month old baby's menu without any doubt. This green vegetable is packed with a variety of nutrients such as vitamins A, vitamin C, protein, potassium, folate, calcium and iron. These nutrients assist in your baby's continued growth and development.
How to make green beans for a baby. 
Beans for baby
After your baby has had cereal for a couple of weeks. It is wise to introduce healthier foods like vegetables and fruits to their diet alongside breast milk. You can have green beans as your beginner vegetable. I introduced green beans to my baby girl when she was six months of age. During this time I would only serve them as a puree. But as she grew older I started introducing different methods. Introduce bean puree to your little baby. Make sure it is of a thin consistency, so that your baby does it have difficulties swallowing it.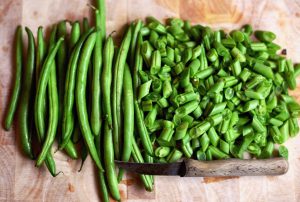 You can also mix your green beans with full fat Greek yogurt and pears making sure you make it thin. Green beans are certainly delicious and even more delicious when mixed with a variety of other veggies. You grind them well until the puree is fine then serve your baby. Mixing green bean puree with sweet  potatoes or with russet potatoes will make your baby love eat them even more as it is a healthy and delicious meal. Carrots too when finely blended are a good option when it comes to mixing with green bean puree. 
How to puree green beans for baby
First of all, cut off the ends and rinse your green beans then cook them until tender for about 3 to 5 minutes. When your beans are fully cooked remove them from the heat and place them in a steamer. When the green beans are now in a steamer , cook them until tender. Draw the green beans from the steamer and rinse with cold water for about three minutes. Once you are done, put your beans into a blender and blend until smooth. You can add a bit of water if necessary. Serve your green bean puree to your baby. However, if there is any leftover bean puree you can pack up in a storage bag or container and refrigerate it for later use. 
How to cook green beans for baby | BOILING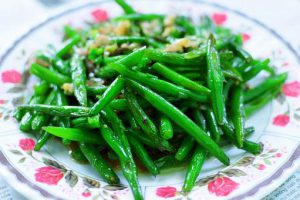 Get a small pot and fill it up with water ,then boil the water over high heat . Take your freshly washed green beans and add them into the pot of simmering water. Simmer your green beans for 6 minutes. Poke with a fork to check if they are tender . After checking , drain the water from the beans, then add butter or olive oil, and season to taste. Serve in a baby bowl.
Skillet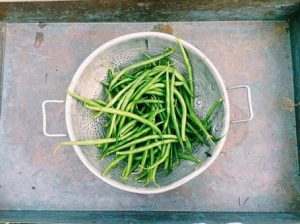 You skillet your green beans by first adding 1 tbsp of olive oil into the skillet , then preheat it over medium heat. Secondly, trim the green beans and add them into the skillet. Cook for 5-7 minutes, then after adding about  2 tablespoons of water, cover. Cook for 2 more minutes then blend your green beans. Season and serve in a baby bowl.
 Steaming
When you want to stem green beans ,you take a small pot and pour some water in it and boil it over medium heat. Take your trimmed  green beans and put them into a steamer basket . Place the steamer basket over the boiling water then cover and cook for 10 minutes or until tender. Put the beans into a blender and blend into a purée. Then finally season to taste and serve your baby.
How to prepare green beans for baby | ROASTING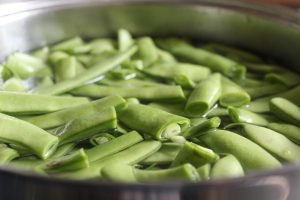 Roasting green beans first before you purée them will give you a dense, earthy taste. First start off by preparing your baking sheet. Toss it with one tbsp of olive oil. Take your washed green beans and trim them. Then toss them in the tray . Cook at 420 degrees Fahrenheit for 20 minutes until tender . Then add to the blender and blend . Serve in a baby bowl not forgetting to Season it lightly.