Sweet-potato for baby-led weaning.

Sweet-potato for baby-led weaning are a great food that works out for weaning babies; This versatile and highly nutritious tuber also helps in keeping your baby full for longer periods of time. However, creating a peaceful environment full of self-feeding baby giggles.
These nutritious tubers are rich in beta-carotene, which gets converted to Vitamin A in the body. Furthermore, these orange powerhouses are a great source of Vitamin A, manganese, copper, B vitamins, potassium and fibre to name but a few.
How to cook sweet-potato for baby-led weaning.
Easy to make potato recipes.
There are a variety of dishes that you can prepare for your baby using sweet-potato. The good news is that: I am going to share with you my favourite recipes for baby led-weaning.
Before beginning baby-led weaning (BLW) with your baby, it is important to proceed safely -Thus by noting the baby-led weaning safety and strategies; as to how to sit your baby properly and how to handle them when they are eating.
Sweet-potato fries for baby-led weaning.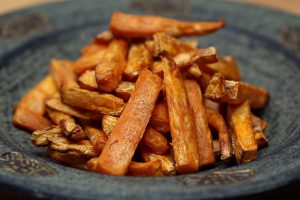 Utensils.
Chopping board.
knife.
Large bowl.
Teaspoon.
Baking tray.
Parchment paper.
Ingredients.
1 big sweet-potato.
A teaspoon of Cumin powder.
1/4 teaspoon cinnamon.
Pinch of black pepper.
Method.
Preheat oven 400˚F.
Scrub and wash the sweet-potatoes until clean.
Slice the sweet-potato into 1 inch or into the size of your index finger.
Place the slices into a large bowl and drizzle enough olive oil to coat.
Add 1 teaspoon of cumin.
Mix in ¼ teaspoon of cinnamon.
Add a pinch of black pepper.
Mix thoroughly Spread the fries on baking tray making sure they are not too close to each other.
Cover the fries in parchment pepper put into the oven and bake for 25minuetes .
Serve when cool.
What I love about sweet-potato for baby- led weaning.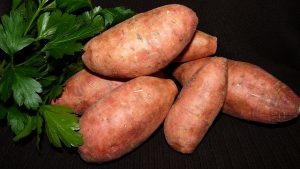 What I love about sweet-potato as a baby-led weaning food is that ;
Sweet-potato makes a portion of great first food for baby-led weaning .sweet-potatoes are naturally sweet. They are an energy-rich carbohydrate food which means they give your little one a mini energy boost to fuel all their activities and development.
These carbohydrates fuel the babies brain in their first year. Especially at this stage since their brain will be growing rapidly.

Roasted sweet-potato and cinnamon fingers./Sweet-potato for baby-led weaning.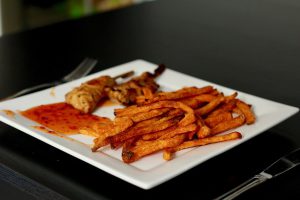 Utensils.
Pasting tray.
Serving bowl.
Ingredients
Sweet potato.
Ground cinnamon.
Method.
Preheat the oven to 180°C.
Wash and pierce the sweet-potato until clean.
Bake the sweet potato for 40 minutes in its skin, until tender.
Remove from oven and let it stand to cool.
Remove sweet potato skin carefully.
Cut the potatoes into finger size strips.
Sprinkle a pinch of cinnamon on the sweet-potato fingers.
Serve your baby and allow him or her to self-feed.
Sweet-potato lentil fritters./Sweet-potato for baby-led weaning.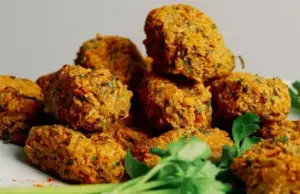 Utensils.
Pot.
Cup.
Masher.
Non sticky base pan.
Mixing bowl.
Serving plate.
Ingredients.
2 medium sweet-potatoes.
3/8 cup red lentils dried (75g).
An egg.
1 tsp ground cumin.
3/4 tsp salt (omit if for babies).
1 tsp garlic.
1/2 tsp paprika.
1/3 cup all-purpose flour.
1/4 tsp black pepper or to taste.
Method.
Wash sweet-potato thoroughly.
Boil the sweet-potato until it is ripe.
Peel off skin carefully and mash.
Pour 2/3 cup of water into pot.
Add lentils and bring to boil for about 15 minutes.
Mash the lentils.
Mix sweet potato and lentil mash in a bowl and mix well.
Add flour to mixture gradually to make it a bit thick if runny.
Heat oil in a pan .
Scoop small amounts of sweet potato mixture with spoon into pan and form patties.
Fry for 5 minutes and changing sides until golden brown.
Let it stand to cool .
Serve your baby in a baby plate.
Sweet-potato wedges./Sweet-potato for baby-led weaning.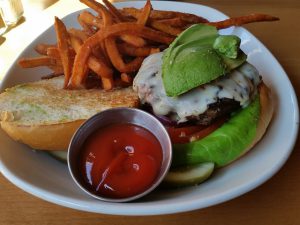 Utensils.
Grater.
Saucepan .
Chopping board.
Knife .
Baking tray .
Bowl .
Ingredients.
800g sweet-potatoes.
2 tbsp grated parmesan cheese.
3 large sage leaves.
2 tbsp oil.
A little salt and pepper for babies over 1 year.
Method.
Preheat the oven to 200C / 400F.
Wash the sweet-potatoes and cut into thick wedges.
finely grate the parmesan cheese.
Chop the sage leaves.
Place the sweet-potato wedges on a baking tray.
Add the oil and corn flour .
Toss together and roast for 20 minutes until cooked.
Add the Parmesan and safe.
Finally , draw from heat when cheese has melted.
Serve in a baby bowl.
Sweet-potato banana bites./Sweet-potato for baby-led weaning.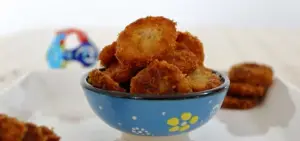 Utensils.
Masher.
Small bowl.
Wooden spoon.
Baking tray.
Muffin tins.
Ingredients.
1 sweet-potato.
A banana.
¼ cup but butter.
2 eggs.
Blue berries.
Cinnamon to taste.
Method.
Preheat oven 375 degrees.
Boil sweet-potato until cooked.
Mash sweet potato finely.
Add banana into the sweet potato mixture and mash again.
Add the peanut butter into mixture and mix.
Beat in the eggs, blue berries as well as the cinnamon and mix.
Spoon into greased mini muffin tins.
Bake for 20 minutes.
Sweet-potato with bacon tarts./Sweet-potato for baby-led weaning.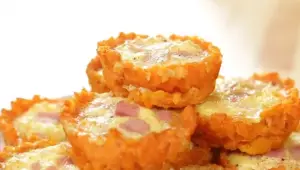 Utensils.
Hand grater or food processor.
Knife .
Pot.
Chopping board .
Frying pan.
Ingredients.
1large sweet-potato.
5 strips of bacon .
1 tsp garlic sea salt .
A pinch of ground black pepper.
1/2 tsp onion powder.
80g (1/2 cup) potato starch or cassava flour.
Olive oil.
Method.
Boil the sweet-potato for about 10 minutes.
Remove the sweet potato from the boiling water .
Peel the sweet-potato and grate or put into the food processor.
Squeeze out the excess water from the potato.
Add olive oil into a saucepan let it heat up
Meanwhile , finely chop and fry the bacon until crispy.
Add the garlic sea salt, bacon to potato mixture and mix well.
Sprinkle ground black pepper and onion powder and mix.
Add cassava flour or potato starch and mix well with your hands.
After that , coop with spoon into hot oil fry until cooked .
Serve in baby plate.
Last but not least ,sweet-potatoes being a vegetable ; that means they count towards your little ones 5-a-day rule. Since , they are also a great source of fiber. They will do your baby good if he or she has a propensity towards constipation. To sum up , including sweet-potato to your baby's menu will turn out a great idea.