Baby girl room ideas not pink ;The color pink is commonly known for its faminity. Since ages past , pink has always been used not only for baby girls; but also for grown up girls and women too. We are not saying that we are ruling out the color pink as a room theme color for girls . But , we are saying let us try out something different and pretty.
There are millions of vibrant colors out there that we would love to explore . To use for our little baby girls' rooms. However , it is going to be a whole lot of fun for you to try and mix these colors ; and come up with a unique combination for your baby's room. Altogether,creating a space that is welcoming for them. As well as colors that will equally bring warmth, calm, fun and an atmosphere full of wonder.
Important things to note before you start designing your baby's room.
Before you start your planning, there are certain factors that you need to take into account. Particularly when you are designing a girls room. Amongst many factors, you must note that babies under two years of age should be surrounded by soft, calm colors. Not bold, dark and too bright colors and bold. As they tend to saturate the whole room creating problems for your little one. Therefore, going with colors that are cozy, colors that create an atmosphere of security is a wise decision. However, here we eat to try out different color scheme options for little baby girl rooms that certainly do not include pink. We are going to do things differently for a change and try to think beyond pink. I am most certain that there are a lot of shades that will bring beauty and cheer to your little one's room.
Fantastic baby girl room ideas not pink 
One of the main factors that you need to take into account when choosing a color scheme for any baby's room, is the age of the child. It is advisable that the interior of the baby's room, under two years old, should be decorated in calm colors. Mainly because, during this period the child's psyche is very vulnerable. The child's vision is extremely sensitive to bright shades and patterns. So you must consider this factor as you would not want to affect your baby's proper growth and development. 
Baby girl room ideas orange and gray.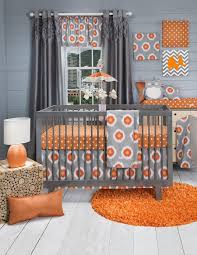 A highlighted Orange color will be a good pick since it is also a girly color which will help brighten up the room . A shade of gray  added to the picture will neutralize the look, giving it a perfect finish. With an exception of white or cream wall to help the two colors to blend well. You can either have the furniture painted gray, the walls painted white, with the accessories mostly orange and a bit of gray designs on some. Additionally, you can further lighten the mood by adding light gray and soft orange pillows. In an effort to give the room a warm, comforting rosy flow ;without it being overwhelming and dominating the room. Altogether keeping the rest of the decor simple and nice.
Lavender purple and white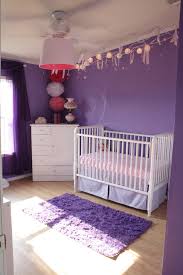 Baby development is also triggered by colors. One amongst the special ones is lavender-purple. Applying shades of purple and a combination of white furniture will create an exquisite sight. Remarkably, purple is a great alternative to pink. However,  it also creates a calming and relaxing environment. Making it concussive for your baby to grow well and develop properly.
Furthermore, this color is a very strong one. So you need to use this color sparingly . That is combining it  with light colors. When the purple is diluted or paired with white ,cream or silver ; the whole room will look perfect . Therefore, when decorating the interior of a child's room, try Lavender-purple. As it will add a beautiful  feel to your baby girl's room. Evoking a warm welcoming sense that is full of style. And above all Lavender-purple gives your little one a feeling that incorporates a lot of trendy accents and a stylish, happy personality everyday of their lives. 
Lavender, gray and white in Baby girl room ideas not pink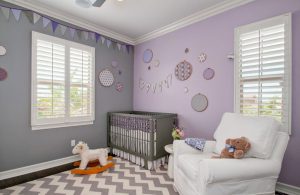 Choosing lavender and gray with everything topped off with white. Makes the room sweet and feminine. Nurseries that have Lavender on them are trending. As they bring in this soft hue particularly when combined with soft grey  floral wall decals or a crib sheet. However, the color purple has slowly taken the stick and has become the alternative of pink in baby girl rooms. Particularly the interiors combined with a white background ,making the nursery room look classic with a striking contemporary mood.You can go for a traditional and elegant look, by painting the walls in your favorite shade of purple or lavender. As for the paint on your furniture you can have it painted white. For a touch of sophistication, choose black furniture pieces. Purple, like pink, elevates your work to a much better result. 
White for walls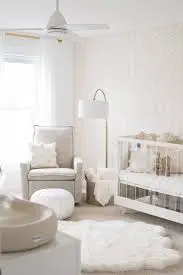 Good old traditional white never loses its flair. Having white as a wall theme color will neutralize and help any color reflect its beauty. Having accessories like furnishings and windows painted white . White color allows you to use any color you want and also to change them whenever you want without having to repaint the room.Moreover, white has real staying power and is a super neutral color like many others it also creates a tranquil backdrop for furnishings in a wide range of styles. 
With white as a universal color that symbolizes purity, innocence, freshness, peace and light. It is always beautiful to have it as your number one option. Having the color white on your baby's walls will somehow expands the room visually, creating the effect of lightness and airiness. Allowing you to complement the interior with any number of bright details. As well as evoking and stimulating your little one's emotions and an urge for creativity. Hence encouraging your little one to scribble on the walls. Turning the room into a lovely art piece which is magical and cozy for her. 
Green for baby girl room walls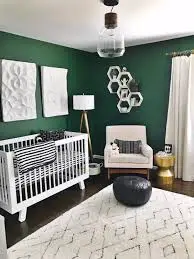 If you want a different background color apart from white on the walls. The good thing is you still have many choices to choose from. Therefore, for a pretty soothing look try green with unpainted wood and white fabric, furniture and other accents. You can play around with the different shades of green and see which one you prefer the most .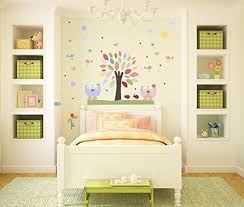 Try a green that is a bit warmer, a sage or a soft lime shade. Any of the shades are quite adorable, all that is left is your perfect choice. It is associated with nature and tranquility and has a positive effect on your little one's heartbeat, sleep, on improving vision and normalizing their  breathing pattern.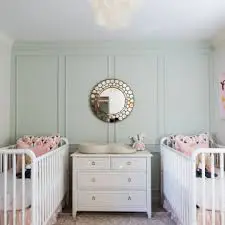 The color creates a special mood in babies  that helps to assimilate new things. This however, is important for your baby because it helps them explore and discover new discoveries each day. The color green has a wide selection of shades to choose from. Ranging from dark green, light green to very light greenish-blue shade.  Moreover,the color green does not irritate or cause anxiety in babies,so feel free to use it. 
Aqua blue and orange.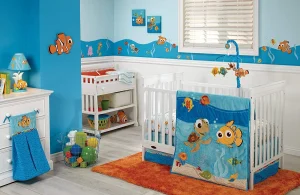 Traditionally, blue is considered a boy's room color. However, when it comes to a baby girl room it is not off-limits as you can play around with it . Hence coming up with a pretty shade of blue ideal for a girl. Choosing  aqua blue or a cornflower blue with accents with a bright orange for a cheery look will do the trick. Unpainted wood furniture warms a blue room nicely ; and white gossamer curtains will add a feminine touch.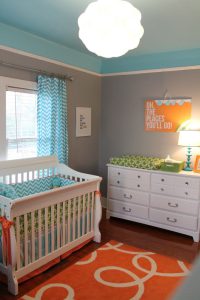 Mixing aqua blue and orange will give you a perfect outcome as the two colors are companions that balance vibrant interiors not only for a baby girl room but also for a baby boy's room. Blue  is well known for its calming and relieving effects on baby boys. I guess it will not be such a bad idea if we use it on girls too. For you to achieve a much more feminine shade of this delicate blue. Try to dilute it with white elements to achieve a nice aqua blue shade. Then you can go ahead and add special delicate details like floral prints , cartoon characters and so forth.
Peach and white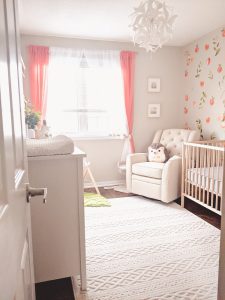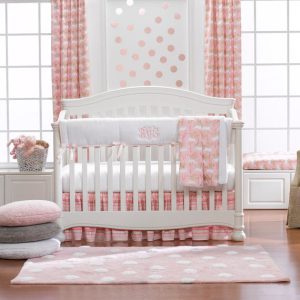 If you want a perfect baby girl room idea not pink, then you gotta try a combination of peach and white. Peach and white is perfect for the baby girl's room.
Orange and yellow for baby girl room.
Yellow and orange will make your baby girl more energetic and also inspire communication. The two colors make up quite a beautiful combination. If well diluted in moderate quantities, orange has a beneficial effect on your design. so make sure that you combine it with neutral colors like white, blue, mint and lavender just to mention but a few. Psychologists advise us not to use the color orange a lot as it causes excessive saturation in the room. The sharp orange tone is believed to cause overexcitement on the baby's psyche. Particularly if not mixed with any calm or neutral color. Hence , combining it will create a baby friendly environment.
Red in Baby girl room ideas not pink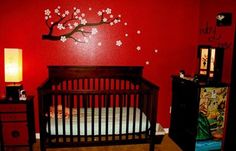 The color red just like orange also excites your baby's psyche and can further cause frequent nightmares to your baby. Though it is a nice color it however,requires dilution and mixing with a neutral color. When using red try and use in very small quantities. However, small touches of red with a combination of other softer colors will complete the picture.
Yellow and beige for baby girl room color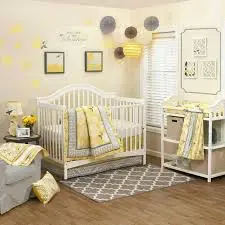 Like pink ,Yellow color is perfect for decorating your baby's room. As it brings warmth and cheer into a room ; as well as a positive effect on all types of baby activities. Like we all know the color yellow is associated with sunlight which brings joy and positive emotions along with it. This sunny color makes the room very bright and airy . Creating a warm atmosphere and above all it encourages creativity, making your  baby learn a lot of things each day. The color yellow has many shades and these include;
Delicate yellow
Amber yellow 
Honey yellow
Corn yellow 
Pear yellow 
Golden yellow 
A nice shade of your choice combined with beige,for  your little baby's room will become a masterpiece design. Hence, giving the room a warm and comfortable feel.