How to Bath Your Baby ;As your baby evolves through the early stages to the final phase of his first year, he or she definitely needs to be bathed clean in a proper way .the following steps will help you give your baby a perfect clean bath.
How to bath a baby from a day old to twelve months old.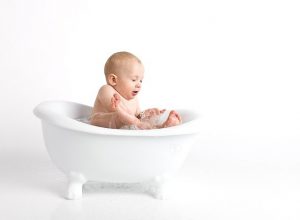 We will assume that at this stage, you already have your baby tub and soft baby sponge, mild baby soap, soft towel, a thermometer, a clean diaper and skin lotion or petroleum jelly for your baby's little bathroom corner.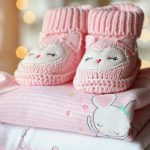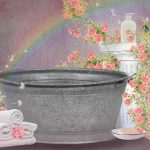 Mix your water well and make sure your bath water is Luke warm. It is always wise to have a thermometer to test your water, have it at a temperature of 75 degrees Fahrenheit.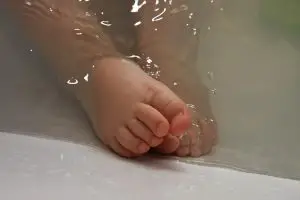 Place your baby on a flat surface and place a towel on top such that it becomes smooth. Or even use your bed. Use a sponge to bath your baby, without immersing your baby in the water. The baby's umbilical cord stud is still attached to the baby so it is not wise to get it wet as it can lead to high risk of infection.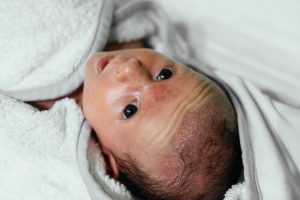 Lay your undressed baby on the readily prepared bathing surface, with a damp cloth gently clean his face using just water.and for the rest of the body use little soap, wash the genitals gently and thoroughly from front to back for a girl baby and for a boy open his penis and wash it gently, if he is circumcised clean around his genitals and avoid the area until your baby heals . Not forgetting the ear behinds, the creases of his or her arms, fingers and toes. Pat your baby dry and apply baby jell or baby lotion. cloth your baby after bathing them.
Bathe your baby three times per week at most making sure that you thoroughly clean their diaper area during changes .As bathing them everyday could dry out their skin.
How to bath a baby after cord stud has fallen off.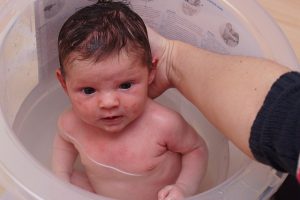 Likewise, gather, all your baby bath materials, prepare to change clothes too.
Take your baby and support them gently lowering them into the baby tub or sink. Make sure that you support your baby every time you give them a bath as they are not yet able to sit up and support themselves, have the right amounts of water in the tub. Not too much and not too little.

Wash the baby's face with a sponge then add a little bit of soup into the tub and wash the baby thoroughly particularly in the baby diaper area .make sure your baby does not choke off the water and also do not let the baby drink bathing water as every baby loves doing this.
Bathing babies that can now hold their sitting position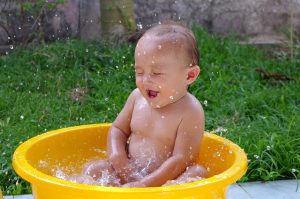 If your baby can now sit by themselves independently without toppling over , then that is the time you need to change your baby's tub and get a bigger one so that he or she has enough space to play and sit properly in the water .
Use soap for bathing your baby's whole body . Be careful not to add lots of it as it could get into your baby's eyes, to avoid the baby from slipping as too much soap could cause this . We would not want our little one to get life threatening accidents from a simple bath !.
Cover your baby with a towel and pat your baby dry and apply baby lotion or petroleum jell . Then dress up your little one. And wrap them up.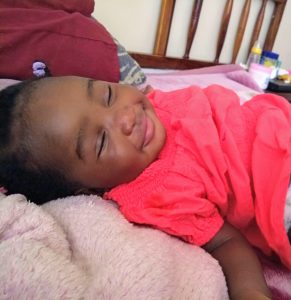 Is it ok to use baby perfume on my baby?
How to Bath Your Baby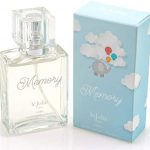 Some people dab the perfume on the back of the baby's neck or shoulder making the baby smells great for hours. For babies with sensitive skin some mothers apply perfume on the baby's clothes.scented hand sanitizers are also an option if your baby is allergic to strong perfumes , these are used when you want to hold your baby.Making him or her smell good as well.
On the other hand it is always best to do away with perfumes and just bath your baby with soap to remove unnecessary odors.
Must mothers with infant babies wear perfume?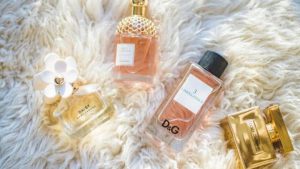 Wearing fragrance as a mom is a good thing. The scent of breastfeeding can get really bad and brings discomforted you and to people around you. It also sticks on your baby too. So we would not want to see people moving away from you and refusing to hold try baby because of the bad odour.
So it wise to get a good smelling perfume and use it on yourself. This again will be an advantage if you are the kind that does not like spraying fragrances on your baby, as the baby will just smell like you ….